BoBo, Sail no. 1484 – Now Sold. Thank you for your interest.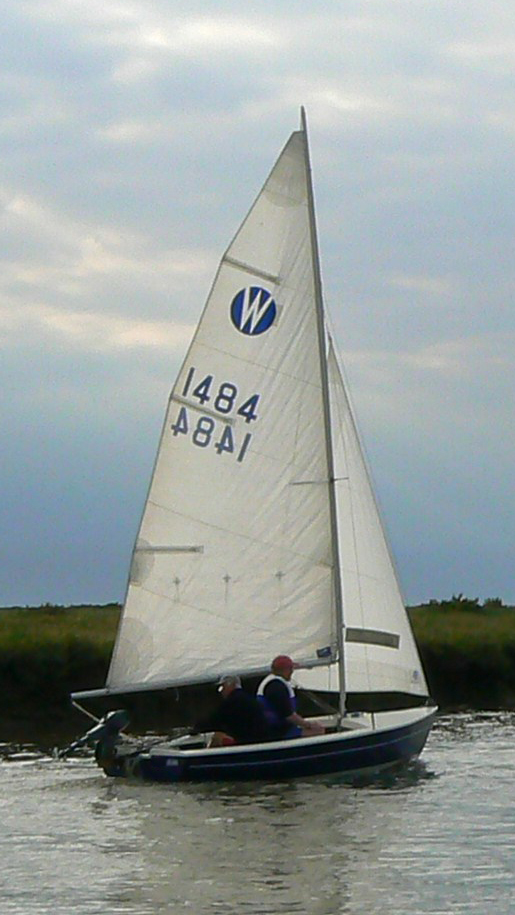 General
The 14ft Wanderer dinghy has its own association. Click here for the association's website where the technical details and much more may be found including an owner's manual.
The boat is 4.3m (14ft) long with a beam of 1.8m (5ft 10 inches). It has a main sail & genoa and is designed for use by up to four adults.
BoBo
I bought BoBo from the original purchasers. She was new in 2000 and sailed in Blakeney under the name Lady Jane. I intended to sail her single-handed in Blakeney but I found that was beyond my capabilities. So, she hasn't seen much use during my ownership and I have decided it is time to part ways and let her new owner enjoy sailing her.
BoBo may be viewed in Blakeney, Norfolk.
Equipment
Combi road and launching trailer.
Main sail & furling genoa
Heavy duty boom cover
Anchor
Toe straps
Self-bailers
Oars
Outboard bracket
Boat hook
A Yamaha 2 stroke 4hp Outboard – in need of a service – is available separately.
The Boat
Click picture gallery to enlarge.
The Sails
The genoa has a small repair as does the main sail (by the W). These may be seen in the images below.
Click picture gallery to enlarge.
The Trailer
Click picture gallery to enlarge.
The Price
£2,000
Sorry Now Sold